(Dis)ordering the City: Buildings, Bodies and Urban Space
Emily Speed in conversation with Duncan Light
As part of the Practising Place programme, In Certain Places is proud to present an evening with artist Emily Speed in conversation with human geographer Dr Duncan Light, hosted by the Bluecoat.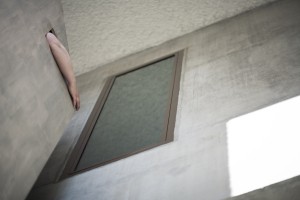 The event will focus on the making and reshaping of urban space. In particular, it will explore the relationship between official urban planning processes and the subversion of city spaces by the people who use them. Drawing upon their own creative and academic research, Speed and Light
will examine the ways in which urban spaces are performed, and how certain practices – such as walking, urban exploration and the creation of 'desire lines' – might be viewed as tactics for 'disordering' the city.
Dr Duncan Light is senior lecturer in the Department of Tourism and Hospitality at Bournemouth University. A human geographer by background, he worked for 20 years in Liverpool before moving to Bournemouth. He has research interests in urban landscapes, particularly in Romania (a country he has visited regularly for more than 20 years). In particular, his research has explored the efforts to remake the 'official public landscape' created by Romania's communist regime in the post-communist period. He has published papers on these issues in a range of journals and has also contributed chapters to a number of recent edited volumes about post-communist change.
Practising Place is a programme of public conversations, designed to examine the relationship between art practice and place. Each event is hosted at a different venue and explores a specific aspect of place by bringing artists together with people from different backgrounds, who share a common area of interest.
Practising Place forms part of the In Certain Places project, which is based in the School of Art, Design and Fashion at the University of Central Lancashire, and is funded by the Arts Council of England.
(Image: Detail from 'Panoply' by Emily Speed – a commissioned work, made for the Bluecoat Gallery, Liverpool as part of the TOPOPHOBIA exhibition. Photo by Mark Reeves.)