I am in an exhibition at Rogue Project Space in Manchester, which opens this Thursday.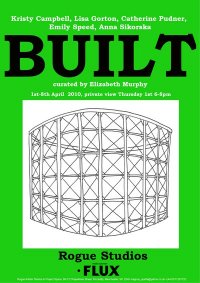 Exhibition details:
BUILT
1st to 8th April 2010. Opening the 1st of April from 6-8pm
Kristy Campbell, Lisa Gorton, Catherine Pudner, Emily Speed, Anna Sikorska
BUILT brings together 5 Female artists from across the UK whose practises deal with specific aspects of the built environment. Through the use of Sculpture, Installation, Animation and Performance the selected artists respond to the structures which surround our daily activity; be that personal shelters and social networks, or our more public man made surroundings that are compounded in the cities we live in. They search for a space in the parameters between art and these constructed locations, subtly commenting; "Women build stuff too".
Built is curated by Elizabeth Murphy.
Rogue Artists' Studios & Project Space
66-72 Chapeltown St, Manchester, M1 2WH
If you're on facebook, the event is here