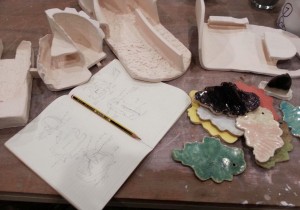 Last month I spent two weeks at Troy Town Art Pottery working on some new ceramic pieces as a collaboration with Ben Cove. Updates to follow when they have been taken out of the kiln (if they all survive..)
I was really pleased to show a drawing from my Body/Building series and some artists' books with Day & Gluckman at Sluice Art Fair. The rest of the 'Body/Building' series are currently on display as part of Fabric Spaces as PIANOFABRIEK in Brussels, curated by Sevie Tsampalla.
I'll be going quiet for a while to get into the studio, do some writing and to finish off a few new editions. I will be back on 5th February next year with a wearable sculpture work for an event at the Wellcome Collection.