Last Friday was the launch at of 'A House Like Me' at Yorkshire Sculpture Park. The event was to mark the end of my year as bursary holder for the Feiweles Trust at the Park. I have compiled the book and it is a mix of digital printing with screen printed dividers.
It was a lovely day and great to get some feedback on this thing that has been filling my house with piles of paper for weeks.
'A House Like Me'  is intended for educators wanting to work with conceptual art and is based around the themes in my own practice and the projects I have been doing in schools since last September. The book is not for sale, but a pdf version will be online soon, I will post a link as soon as it's available. Some images can be viewed in the bookworks section on this website.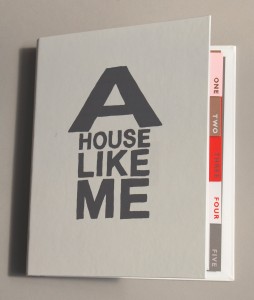 ISBN 978-1-871480-85-6, Yorkshire Sulpture Park, 2010. Digital print on paper with screenprinted, card dividers. Digital printed folder.