My new print (made with amazing printmaker Emma Gregory) Sfogliatelle is currently on sale at the Bluecoat to help raise money for the Print Studios.  Each print is £120 (unframed) and they are available to purchase from Tickets & Information in the hub.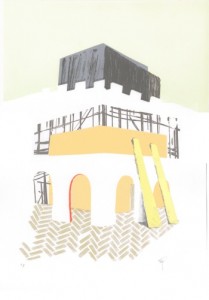 Sfogliatelle by Emily Speed, Ten-layer Screen Print, 2013, Limited Edition of 50
About the work:
Sfogliatelle (a type of Italian pastry and meaning 'many leaves/layers') continues to explore a sculptural work Facades/Flats that Emily Speed made in Rome in 2012. Façades/Flats looked at the layers of theatrical façades that exist within a city, especially those whose bricks, design or size communicate power and clearly signify exclusion. Speed is also interested in the ever-changing nature of cities and how quickly buildings appear and disappear. In the print, several layers do not really exist; they are made using only negative space and hopefully create a slippery space that one can never be totally certain about.