I made this film. Essentially a valentine's card, it's short but has a sexy soundtrack and features the ultimate erotic architecture; several 'crotch shots' where walls and ceilings meet in the pavilions in the Giardini della Biennale in Venice.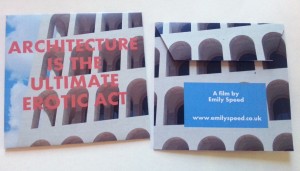 Architecture is the Ultimate Erotic Act, 2014 (2 mins 15 seconds), made especially for Sex Shop.

SEX SHOP is an artist-run distribution network for social products. Just like sex it brings together people from all walks of life. Just like a shop it distributes useful goods.
Valentine's Day
14/02/2014
from 6pm
20 Parade Mews London SE27 9AX
@sexshopdistro
Available at Sex Shop for £2 from 14th February or for £3 by post. Email me if you'd like one.