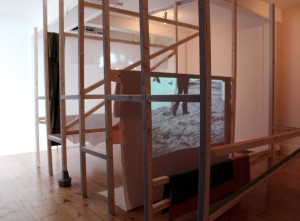 This new installation work is a commission from Plymouth Arts Centre and it opens tonight! The exhibition is on until 25th May so do pop in if you're in the area.
"In thinking about proxemics and repetitive behaviour Speed began this piece of work by visiting the south Devon coastline. Observing beaches as a site of constant change and regeneration, she related this back to human efforts at building and creating territory; forming an idea for a filmed performance at South Milton Sands (also known as Thurlestone Sands).
Now edited, looped and integrated within the installation, multiple projections hint at the attempt, by a locally recruited group of volunteers, to build a temporary suburb. Battered by the wind and fighting with the customised and awkward windbreaks they hammer away in a Keaton-esque fashion to create a space of their own making. Equally impermanent, Speed has designed a structure comprised of a series of dividing walls for the gallery, creating liminal spaces that mirror those we see in the films. These walls never allow the viewer to be inside or outside, but always in-between."
A massive thank you to Gillespie Yunnie Architects for their sponsorship.