Atelierhaus Salzamt, Linz
On Tuesday I am heading back to Austria to work for six weeks at Atelierhaus Salzamt in Linz. I was there for three months in 2009 as part of the Urban Interventions exchange with Liverpool Biennial so I'm thrilled to have been invited back. The City of Linz have purchased 'Inhabitant', the work I made during my last visit, for their collection, and it will also feature in a publication about their new collection in 2013. Here is a shot of the last visit with me performing Inhabitant and having some kind of encounter or stand off with the little yellow train and its occupants!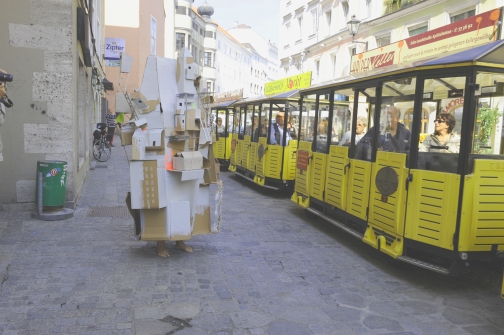 Photograph by Jens Sundheim, who was fantastic company last time, wish he was going to be around again. The first picture on his website is from Bellevue, the 'Yellow house' – one of the 2009 commissions in Linz, a great reminder of how strongly yellow featured in my last visit. I still haven't gone through all the images he and Mehmet Dere took of that walk so it's nice to look back through occasionally and find new ones.